Illegally felled trees, waste dumped in the forest, thinned and cut forest – this is what the woods in the surroundings of villages Ali and Brili look like. There's a considerably high rate of environmental crimes in Khashuri Municipality.
Based on the latest data, personnel of Supervision Department of the Ministry of Environment Protection and Agriculture revealed up to 4,000 facts of environmental crime related to wood felling in 2017, 1737 of them being the breach of forest legislation and 1397 – breach of the rules of transportation.
On 2 August 2017, within the scope of Global Forest Watch, CENN visited Shida Kartli to evaluate the condition of forests. A forest expert and a geologist made a field visit to Khashuri-Kareli forest plot to make an assessment and prepare relevant reports. The above project is implemented by World Resources Institute (WRI) with the support of UNEP/GEF.
Giorgi Kirkitadze, forest expert, has discovered numerous facts of breach of legislation. He claims that trees are illegally felled and labelled for felling on certain forest plots – high gradient slopes. Besides, according to the expert, waste disposal norms have been violated, meaning that cut wood waste is not collected from the forest, but rather left where they are.
Based on Giorgi Kirkitadze's observations, due to intensive wood felling, Khashuri Municipality forest restoration process takes place in a very inefficiently. According to the forest expert, one could easily observe by the unaided eye the way the forest in the vicinity of villages Ali and Brili is thinned.
As Giorgi Kirkitadze put it, "a 50-meter long line on the slopes along the river was intensely cut and only a few trees remain."
In order to improve the situation on the aforementioned territory and to restore the forest, the forest expert strongly recommends to prohibit grazing. Also, sub-forest needs to be thinned and trees are to be planted on a certain area.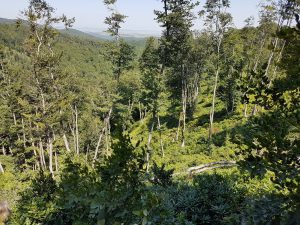 Grazing must be prohibited, so that the already scarce number of shoots does not diminish even more.
CENN is implementing a project, New Forest Technologies for Sustainable Forest Governance" within GFW, aimed at support of the ongoing forestry reform in Georgia by introduction of new information and communication tools.