Receipt of materials created by participants of My Christmas Tree competition organized by Waste Management Technologies in Regions, Phase II (WMTR II) came to a close.

Christmas competition intended for school and university students and other creative-minded individuals was conducted by the initiative of WMTR II in October and November 2017.

The competition was aimed at promoting public involvement in environmental activities, launching initiatives and development of creative vision among youth, promoting the re-use concept and organizing a Christmas fair for charity purposes.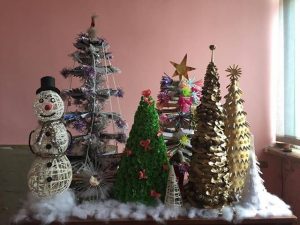 Under the rules of competition, anyone could send photos of their hand-made Christmas accessories made from old items. The photos were then uploaded on a Facebook page of WMTR II program. Students of various schools and universities throughout Georgia took part in the competition, though most of the participants were applicants from WMTR II target regions: Shida Kartli, Adjara AR, Kakheti and Tbilisi.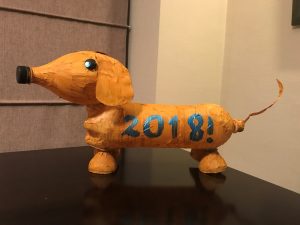 The first phase of the above competition ended on November 26. Based on the number of likes and the quality of prepared items, 20 selected participants took a trip to Bulachauri Green Centre to prepare even more Christmas accessories from the old stuff. These accessories were exhibited and sold at a charity exhibition-sale event on December 2, all the income of which was given to Dog Organization Georgia.
Due to diversity and a large number of works provided by participants, the second phase was added to the competition and lasted to December 13. After completion of the second phase, a hand-made items exhibition will be held on December 15, at 13:00, where the items of the selected participants will be exhibited. Within this competition, a workshop will be conducted for students on creative re-making of old stuff. Also, a charity exhibition-sale event will be held for the above items on December 23, this time already in Tbilisi, within the Christmas Fair organized by Fabricka hotel.
WMTR II thanks all participants for their involvement. Because of the interest and involvement demonstrated this year, the competition will be conducted on a larger scale next year too.
For detailed information and updates, check our Facebook page: WMTR II Program.
WMTR II is implemented by CENN with the support of USAID.