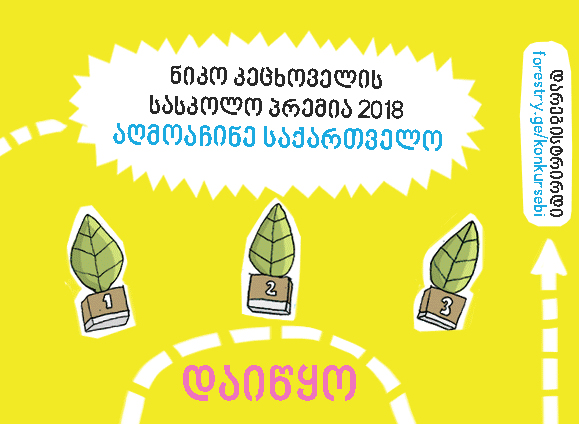 Students and teachers with
Environmentally friendly, "green" ideas
Teamwork skills
Leadership skills
are given an opportunity to demonstrate their potential and possibilities.
The largest environmental school award has kicked off!
This year, the slogan is "Discover Georgia" – standing for the use of the recreational value of our country's forests and promotion of the current ecotourism routes. By participation in the competition, the schools will be given the opportunity to be actively involved in the discovery of the new tourist routes and development of community services.
As always, it is possible to win the competition by the implementation of competition activities and point scoring. Schools will be provided with a variety of options to be able to select the activities they wish to pursue.
Registration at the portal forestry.ge/konkursebi is possible until 10 November 2017. Scoring of points is possible until 10 February 2018.
Partners of the competition are Ministry of Environment and Natural Resources Protection, Ministry Education and Science and Parliament of Georgia.
The initiative is implemented within Sustainable Forest Management in Georgia, a project funded by Austrian Development Cooperation.
As you may know, CENN will support the winners of 2017 competition – public schools from Gori, Telavi and Didachara in the establishment of eco hubs. Creation of eco-hubs is also planned in other schools that have demonstrated special activity. The 23 finalist schools will receive issues of National Geographic throughout the year. They will be involved in study tours and summer camps organized by CENN. Ministry of Environment awarded its chosen teams with a trip to protected areas, while one lucky student will be appointed as a Minister of Environment for a day!